Love, Art & Happiness
Celebrating Love, Art & Happiness
At Quirk Richmond, February is Love, Art & Happiness Month! Throughout the month, we're celebrating all kinds of love—and the inspiration behind it—at our Downtown Richmond hotel.
This immersive art experience includes a restful stay at Quirk Richmond, thoughtfully crafted meals from Richmond's award-winning restaurants, and access to the region's premier art galleries and performances of your choice. Let us help you build the perfect itinerary with our digital guide.
Here's your itinerary for the weekend
Day 1

|
Day 1
Sparkling wine awaits your arrival at Quirk Richmond. After a toast and some downtime, explore the hotel, where you can see local artwork throughout the property and in the Quirk Gallery. Don't forget to browse the art-filled boutique and grab some lite bites and themed cocktails at The Lobby Bar's our Hello There Happy Hour.
- Don't miss Happy Hour, served daily from 4-6 pm.
- Amtrak is a great way to get to Richmond! With two stations - Staples Mill Station (RVR) and Richmond Main Street Station (RVM) – there are plenty of routes to get you to Richmond with style & ease.
Day 2

|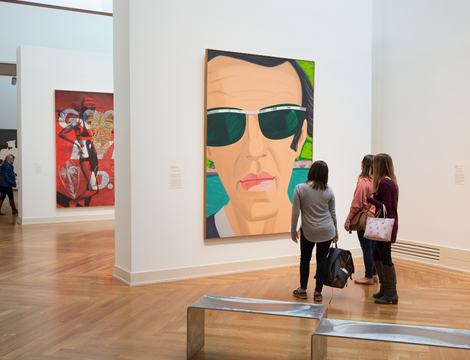 Day 2
Start your day with Blanchard's Coffee—a Richmond staple—from Quirk Café and curate your game plan for the day. We suggest hitting the Virginia Museum of Fine Arts early as you'll want to build in enough time for this expansive museum with its nearly 40,000 artworks.


Don't miss the:
- Largest public collection of Faberge.
- Finest collection of Art Nouveau outside of Paris.
- And a special exhibit that explores the guitar's symbolism in American Art called Storied Strings: The Guitar in American Art.


Venture over to Carytown, where you can stroll the streets of this unique shopping, dining, and entertainment district. Some of our favorites include:
- Restaurants: Can Can, The Daily, and Sen Organic
- Shops: Clementine, World of Mirth, and Mongrel
- Other gems: The Byrd Theatre – a 1920 architectural masterpiece with 1,200 seats that screens new and vintage movies
Head back to the hotel and freshen up for a night out on the town! With an abundance of theatres and performance groups there is no shortage of entertainment. Choose from the Richmond Ballet or Richmond Symphony.
The Richmond Ballet is the State Ballet of Virginia. The professional ballet company presents Firebird with Serenade. This performance features the east coast premiere of Ma Cong's one-act Firebird, where audiences enter a world of myth and magic as Prince Ivan, the thirteen princesses, and the Firebird battle the evil sorcerer Koschei. Firebird is followed by George Balanchine's Serenade, which is the first ballet Balanchine choreographed in the United States.
- Performance Dates: February 17-19
The Richmond Symphony comprises more than 70 professional musicians performing orchestral masterpieces, contemporary works, and popular music year-round. Check out these upcoming performances:
- Classic Hollywood Love Songs: February 4
- Brahms 5th Symphony: February 25 & 26
Day 3

|
Day 3
Sleep in and indulge in our favorite meal of the day, brunch—served until 2 pm at The Lobby Bar!

Next up, The Valentine! No visit is complete without a stop at this Richmond-centric Museum which has been collecting, preserving, and interpreting Richmond stories for over a century. Be sure and check out This is Richmond, Virginia exhibit.
- Curious for more? Don't miss The Valentine's walking tours! Take a self-guided walking tour of historic Jackson Ward, the nation's first historically registered Black urban neighborhood, which includes murals and other public art installations.

Another must-see is the Black History Museum & Cultural Center of Virginia. The museum tells a complete and inclusive story of America, focusing on African Americans in Virginia and their contributions to the county.
If time allows, other art galleries and museums not-to-miss include:
- 1708 Gallery
- VisArts
- Art 180
- Institute for Contemporary Art at VCU
- Virginia Repertory Theater
- Altria