WE'RE BLUSHING
WE'RE BLUSHING
From awards and accolades to magazine mentions, people are talking about Quirk Hotel.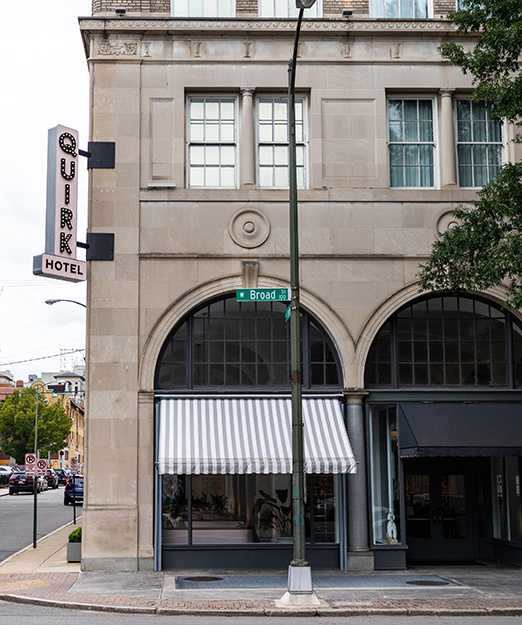 ARTICLES
Quirk Hotel's Mural Room Project Will Make Your Next Getaway Extra Artsy
Quirk Hotel unveils custom mural rooms painted by Richmond artists
The Best Places to Travel in April
Your ultimate guide to a weekend getaway in Richmond, Virginia
12 Best Pet-Friendly Hotels in Richmond
Tourist in Your Own Town: Art Adventures
12 New Boutique Hotels to Visit This Year
This Southern City Is America's Next Great Art Destination And You'll Want To Plan Your Visit
5 Hotel Restaurants That Even Locals Love
Best of RVA! Staycation Adventures
'The Bachelorette' episode filmed in Richmond to air July 2
5 Deliciously Diverse Cities Leading the Way in Group Dining
Our Favorite Things To Do in Richmond, Virginia
The Best Mother-Daughter Vacations to Take This Summer
'The Bachelorette' date being taped in Richmond tonight
The South's Best Hotels 2018
4 Boutique Hotels to Plan Your Spring Getaways Around
Travel: Revelry in Richmond
Weekend Getaway to Charm City Hotel
Richmond restaurants open on Christmas Eve and Christmas Day 2017
RVA Christmas Tree Traditions Are Fairly New
New and old holiday traditions around Richmond: Boozy Santa brunch, dogs in Christmas sweaters and old-fashioned Christmas at Maymont
48 (Gay-ish) Hours in Richmond
America's Most Luxurious Tasting Menus Under $100
Why Old is New Again in Richmond, VA
5 Easy Escapes From Washington, D.C.
Top five weekend events: 311, Infamous Stringdusters & National Hot Dog Day
11 Upscale Restaurants in Virginia That Offer Chef's Tasting Menus
What to Do This July 4th in Richmond
10 East Coast Hotels with Rooftop Bars Perfect for Summer
Places To Explore: Richmond, VA.
Chef David Dunlap of Maple & Pine in the Quirk Hotel talks cooking, Richmond and more
Think Pink: A brief tour of the color of love across the South
Good Eats RVA
A Cooler Take on Pink at The Quirk Hotel
Restaurant Review: Maple & Pine, a rhapsody in pink, does just about everything right
The A-List #2 Best Venue
7 Reasons to Visit Quirk Hotel in Richmond
Destination on the Rise: Richmond, Virginia
Quirk Hotel - Richmond, Virginia's New Boutique Hotel
Art-Infused Quirk Hotel Opens Brand New Rooftop Bar
Eat and Stay: Foodie-Worthy Local Getaways
The 10 Best Rooftop Bars in the U.S.
Quirk Hotel's Rooftop Bar Offers Drink with a View
Condé Nast Traveler Releases the Hot List 2016 Exclusively on Snapchat
Broad Street's a bona fide dining destination – in case you haven't noticed
Richmond Outranks Spots in France, Portugal as One of 2016's "Best Places to Travel"
Travel + Leisure magazine ranks Richmond at No. 3 on international list
Richmond ranks #3 on Travel + Leisure's list of Best Places to Travel in 2016
Best Places to Travel in 2016: Richmond, Virginia
Honoring John Dabney with dinner at Quirk Hotel
Why Richmond is the city to visit right now
When in Richmond, discover its fascinating past and present
Boutique Quirk Hotel opens in Richmond, VA
Quirk Hotel restaurant to be Dunlap's Maple & Pine
Name and food concept announced for Quirk Hotel restaurant
Getting to know: Katie Ukrop of Quirk Gallery
Ukrop hotel on track for Sept. launch
Work begins on Broad Street hotel
Ukrop planning downtown hotel
AWARDS & ACCOLADES
2019 Best Hotels, U.S. News & World Report
2019 Virginia Living's Top Wedding Vendors
2018 Top Hotels in The South: Readers' Choice Awards, Condé Nast Traveler
2018 Certificate of Excellence Award, TripAdvisor
2018 50 Top Rooftop Bars Around the World, U.S. News & World Report
2018 The South's Best Hotels, Southern Living
2018 Best of Virginia (Best Hotel Category), Virginia Living
2018 Top 100 in the LGBT category (Loved by Hotel Guests), Hotels.com
2018 Top Hotels for Creatives, Tablet Hotels
2018 Best Rooftop Bar (Readers' Choice Winner), Style Weekly
2018 Best Hotel or Inn (Readers' Choice Winner), Style Weekly
Virginia Living's Top Wedding Vendors 2017