art programming
Kathleen Markowitz
With a Thousand Other Heartbeats
August 11 – October 9th
Opening Reception: Thursday, August 11th | 5pm - 8pm
Close to home, a primeval forest. I spend time here, in the generational pulse of color flits and mating calls. In this clockwork I walk my blind dog, too. Unleashed, she feels at home with a thousand other heartbeats...
Read More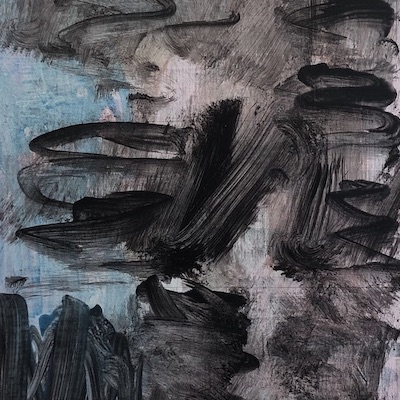 Don Crow
Slant
August 11 – October 9th
Opening Reception: Thursday, August 11th | 5pm- 8pm
These paintings arise from memory. Memory can be willed or involuntary. I have seen paintings that said what I believed or felt, paintings that showed me how to see. I've stored or locked away details from myriad paintings throughout years of viewing art. A painter's brushstroke, a light or insistent touch, has left me knowing there are expressions which cannot be named...
Read More
Close
Kathleen Markowitz
I think of these things when I paint. I am a process painter drawn to the language of color. I like how an unexpected mark can spark a powerhouse of emotion. When I feel emotional honesty in a work of art I am energized.
Kathleen Markowitz graduated from the School of the Arts at Virginia Commonwealth University. She studied art overseas with the New York School of Visual Arts in Barcelona, and The Academia Di Belle Arti Pietro Vannucci in Perugia, Italy. In addition to showing in numerous exhibitions in Richmond, Markowitz's work has been featured on the album covers of several Richmond recording artists. Her work can viewed in the permanent collections at the Federal Reserve Bank, Capital One Corporate Collection, Cedarfield, Westminster Canterbury, Quirk Hotel, and State Art Gallery in Sopot, Poland.
Close
Don Crow
My paintings are my memory's response to those paintings, the barest, sparest relics of surfaces already known, expressed or felt or seen. Everything has been subtracted in order to leave behind something of the contemplative and factual essence.
A teacher, painter and collage artist, Don Crow has been awarded numerous grants and distinctions, including the Pollak Award for Excellence in the Visual Arts. Crow has taught at VCU in Richmond and Doha, Qatar, and worked as visiting artist at Oregon College of Art and Design in Portland. Crow's paintings and collages have investigated tensions between muteness and expressiveness as surfaces and images become subsumed by process and recollection. He lives and works in Richmond, Virginia, with his wife and two cats.